Shopping Cart
Your Cart is Empty
There was an error with PayPal
Click here to try again
Thank you for your business!
You should be receiving an order confirmation from Paypal shortly.
Exit Shopping Cart
EUSS BLOG POLACY W BRADFORD
EUSS BLOG POLACY W BRADFORD
Szanowni Państwo, 
dostajemy od Was wiele zapytań, które ostatnio się powtarzają. 
Zebrałyśmy kilka zapytań i udzieliłyśmy odpowiedzi.
''Jak pisze https/www.polishexpress.co.uk/uzytkownicy-iphonow-beda-mogli-od-pazdziernika-aplikowac-o-settled-status-poinformowalo-home-office
Home Office poinformowało, że od października użytkownicy iPhonów będą mogli składać za pomocą swojego sprzętu aplikacje o settled status.
Przez ponad pół roku aplikacja dotycząca statusu zasiedlenia nie była dostępna dla właścicieli telefonów Apple.
Ma to się zmienić w miesiącu, w którym planowany jest Brexit.
Od października imigranci z UE będą mogli aplikować o settled status za pomocą swoich iPhonów. Apple odblokuje NFC chip po 6 miesiącach zwłoki, w miesiącu, w którym przewidziany jest Brexit.
Po licznych skargach i fali krytyki w związku z niedziałającym na iPhonach systemem do aplikacji o settled i pre-settled status – imigranci z UE będą mogli wreszcie odetchnąć z ulgą. W październiku, miesiącu, w którym Wielka Brytania zamierza opuścić Unię Europejską, zostanie uruchomiona aplikacja na iPhone'ach umożliwiająca złożenie wniosku o status zasiedlenia.'' 
Wyjaśniamy: artykuł merytorycznie wprowadza czytelników mocno w błąd. To, o czym wspomina się w artykule, to jeden ze sposobów potwierdzenia tożsamości, który nie ma nic wspólnego z wypełnieniem aplikacji na Iphone. Wypełniłyśmy 324 aplikacje poprzez iPhone 6s używając 3 różnych sposobów do potwierdzenia tożsamości. 
W swojej pracy immigration officer, doktorantki prawa, która bada strategie 'local authorities' we wspieraniu imigrantów EU27/EEA/EFTA w składaniu aplikacji do EU Settlement Scheme spotykam się z dziwnymi mitami krążącymi wśród społeczności polskiej, które pragnę tu obalić z pełną odpowiedzialnością za tekts. 
Wyjaśniam proces korzystania z EU Settlement Scheme 
EU citizens and their family members who are living in the UK will enjoy ongoing rights . The deadline for applying will be 31 December 2020 . Before you apply for Settled Status you will be asked to provide your personal details like name, addresses, reference numbers such as national identity card, passport.
1-Proof of your identity
2-Proof of residence
3-Criminality check
Successful applicants will get an electronic letter with the decision of their status through an email.
Co oznacza, że proces składa się z 3 kroków 
1. Potwierdzenie tożsamości 
2. Potwierdzenie zamieszkania w UK
3. Potwierdzenie niekralności / karalności 
Krok nr 1 czyli powtwierdzenie tożsamości odbywa się 3 różnymi sposobami:
1. Skorzystanie z EU EXIT app, która od zeszłego tygodnia jest dostępna na iPhone 7 i nowsze wersje z oprogramowaniem iOS 13, Android z NFC min 6.0
2. Wysłanie dokumentu pocztą na adres wskazany po złożeniu aplikacji do EU Settlement Scheme na DOWOLNYM urządzeniu, które ma dostęp do Internetu 
3. Skorzystanie z Centrum skanowania dokumentów (może być płatne od 25f wzwyż
- najbliższe w Halifax
Te 3 formy potwierdzenia tożsamości  nie mają nic wspólnego z samym wypełnieniem aplikacji - są powiązane, owszem, ale jak jak ktoś nie ma bimetrycznego dokumentu (stary dowód, paszport tymczasowy) wypełnia aplikację na DOWOLNYM laptopie, telefonie, androidzie, iPhone, który ma dostęp do Interntu wchodząc na link do aplikacji 
https://www.gov.uk/settled-status-eu-citizens-families/applying-for-settled-status
i wybiera opcję START NOW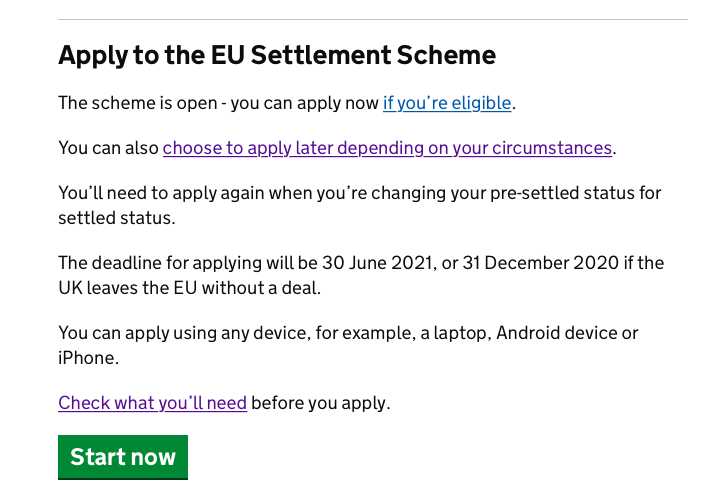 JEŚLI ktoś ma niebiometryczny dokument, wybiera opcję: 
Prove your identity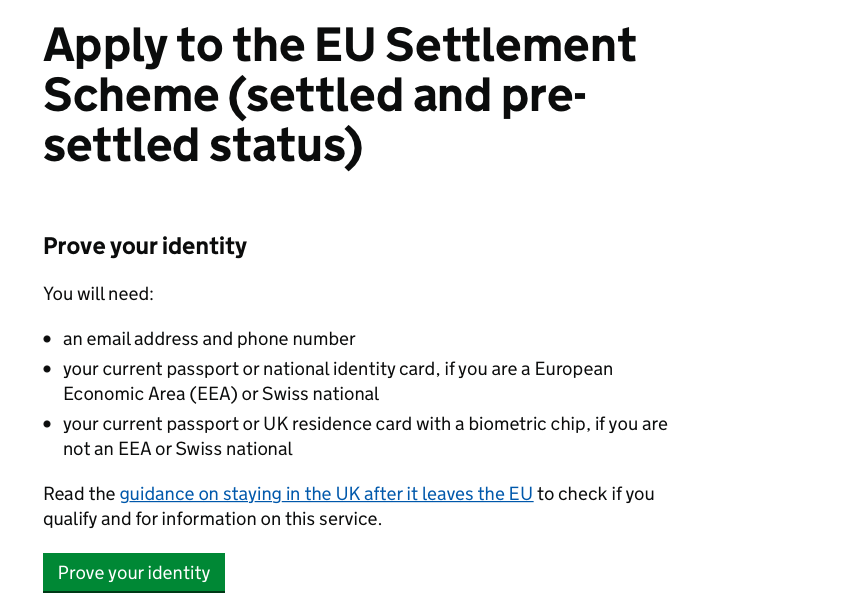 Wtedy widzi: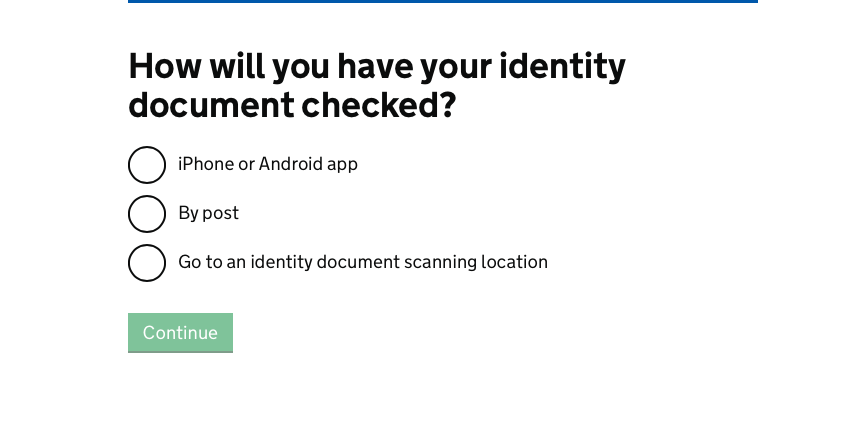 I wybiera właściwą opcję 
Jeśli ktoś potwierdził tożsamość poprzez aplikację EU EXIT to zaczyna proces aplikacji troszeczkę inaczej 
Można kontynuować poprzez linka z maila, który Home Office przysłała podczas potwierdzania tożsamości za pomocą EU EXIT app, albo skorzystać z linka poniżej bezpośrednio. 
https://www.gov.uk/settled-status-eu-citizens-families/applying-for-settled-status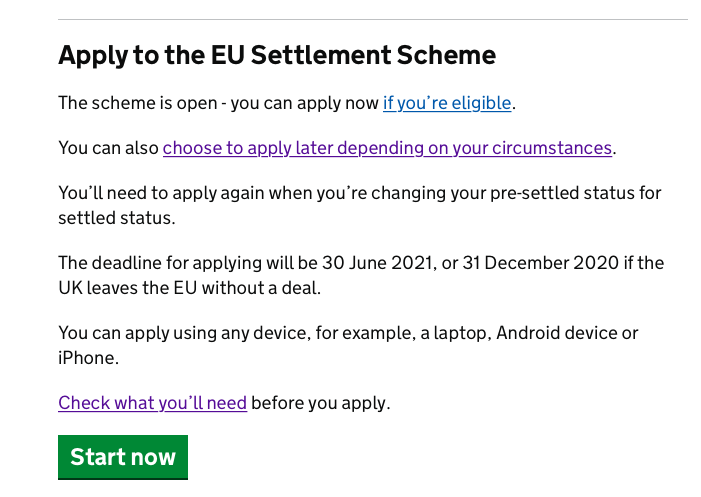 I wybiera zamiast PROVE YOUR IDENTITY - LOG IN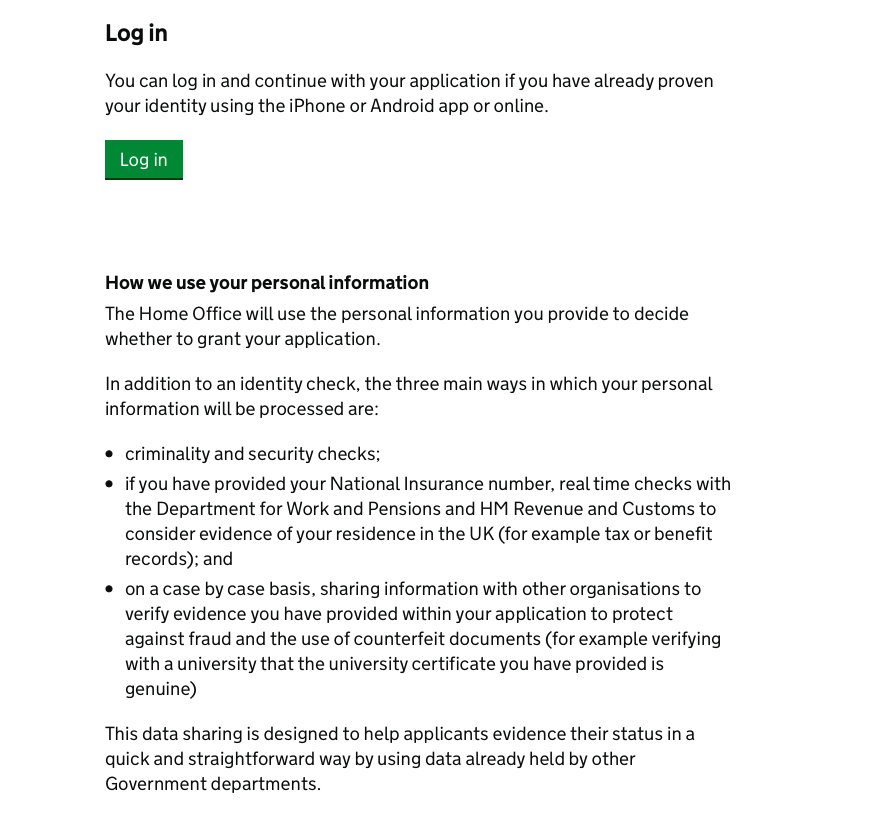 1. MIT 1 MOJA MAMA MA STARY DOWÓD i nie aplikuje 
Otóż, aplikacja a potwierdzenie tożsamości nie ma tu nic do rzeczy. Mama może zaaplikować do EU Settlement Scheme ze 'starym, niebiometrycznym dowodem osobistym, który nadal jest ważny'. Mama aplikuje do EU Settled Scheme i wybiera jedną z 3 form potwierdzenia tożsamości, a mianowicie, mama wysyła dokument pocztą (1 ze sposobów potwierdzenia tożsamości) 
2. Mogę od razu złożyć aplikację dla dziecka małoletniego, które nie pozostaje pod opieką Social Services, a rodzic nie ma brytyjskiego obywatelstwa  (inne przepisy)
Nie nie możesz, musisz najpierw otrzymać swoją decyzję, a potem złożyć nową osobą z osobnym numerem aplikację dla dziecka 
3. WOLĘ ZAPŁACIĆ BO TE DARMOWE SERWISY TO ŚCIEMA
Darmowe serwisy to nie ściema, Bradford Metropolitan District Council sfinansował działania kilku organizacji w Bradford, które mają lub zatrudnią Immigration Advisers, zatwierdzonych przez OISC (guru rejestracyjne immigration advisers), sprawdzonych wzdłuż i wszerz. Lista miejsc dostępna poniżej: 
https://www.bradford.gov.uk/your-community/brexit-and-the-settlement-scheme/access-support/
My także jesteśmy na tej liście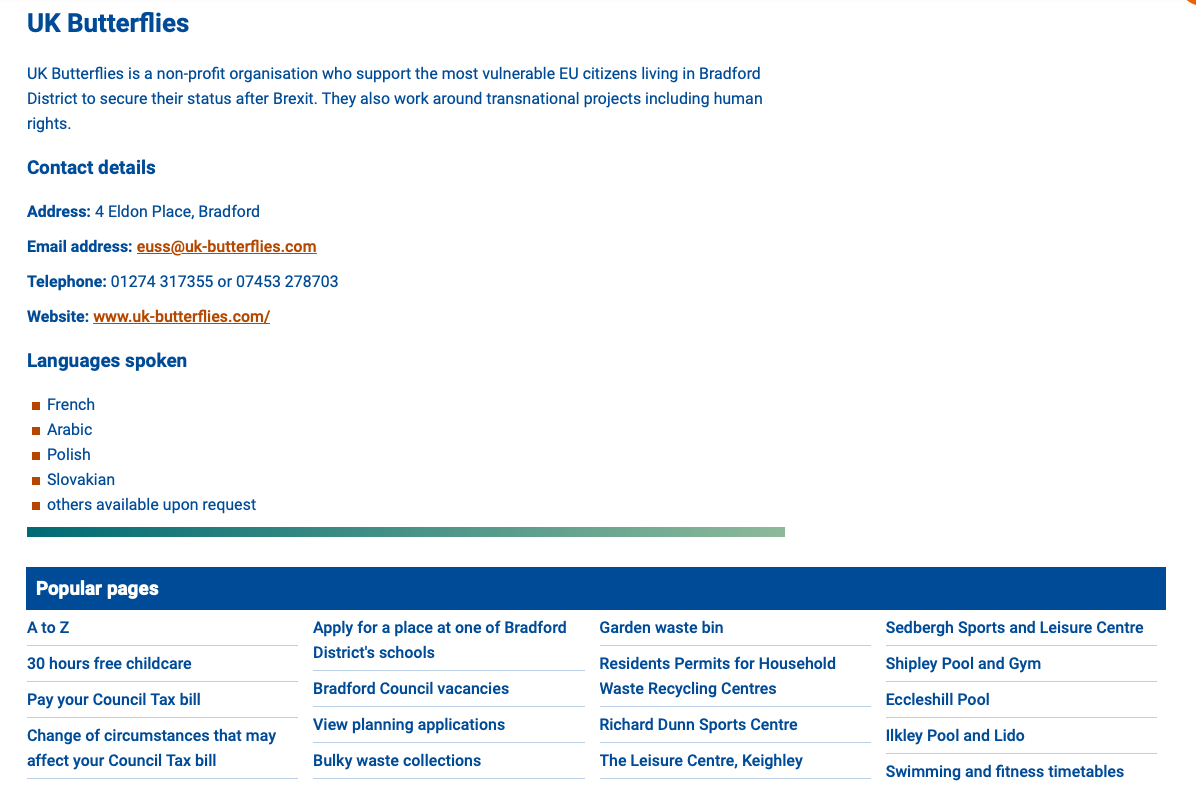 4. KOLEGA MI ZROBIŁ I MI ZATWIERDZIŁ ZŁY STATUS. Jestem tu ponad 5 lat i powinnam dostać Settled a on mi zaaplikował o pre - settled 
PO PIERWSZE, i PO ostatnie!! Osoba, która nie ma uprawnień, nie ma numeru licencyjnego, nie ma OISC rejestracji: 
https://www.gov.uk/government/organisations/office-of-the-immigration-services-commissioner
NIE MA PRAWA DOTKNĄĆ WASZEJ APLIKACJI. 
Osoby, które nie są regulowane przepisami OISC łamią prawo wypełniając Waszą aplikację, gdyż w razie W, to WY poniesiecie odpowiedzialność karną jeśli informacje zostaną żle przedstawione, to Wy będziecie się tłumaczyć, bo kolega jak nieregulowany, nie poniesie żadnej odpowiedzialności i nie będzie mógł działać w Waszym imieniu. 
Podobnie ma się sytuacja, kiedy jacyś polscy PRZEDSIĘBIORCY, biorący drobne opłaty za aplikacje dostaną w swoje łapy Wasze dokumenty. NIE MOGĄ, nie mają PERSONAL INDEMNITY dla IMMIGRATION ADVISERS! JAK NIE MAJĄ NUMERU OISC, INSURANCE DLA OISC ADVISERS - ŁAMIĄ PRAWO ROBIĄC WASZE APLIKACJE! 
Wkrótce ciąg dalszy łamania mitów..
Uściski 
Ola & Karolina 
Categories: None
/