Shopping Cart
Your Cart is Empty
There was an error with PayPal
Click here to try again
Thank you for your business!
You should be receiving an order confirmation from Paypal shortly.
Exit Shopping Cart
EUSS BLOG POLACY W BRADFORD
EUSS BLOG POLACY W BRADFORD
Drodzy Czytelnicy!
Dziś przedostatni dzień lata...To było pracowite kilka miesięcy...Szybko minęło...
Chciałam dziś odpocząć, wyłączyć się ze świata mediów, ale się nie udało..Kiedy rano się obudziałam, zobaczyłam na swoim telefonie ponad 100 wiadomości w różnej formie...a to emaile służbowe, a to prywatne, a to Whatsapp, sms-y, Messanger, posty na Twitter, komentarze.. Posty na FB. 
Nie...dziś nie robię nic...taka myśl przeszła mi przez głowę...zasłużyłam na odpoczynek...ciężko pracowałam przez ostatnie 4 miesiące...tak naprawdę ciężko...
Czytam...
Błagam o pomoc, nie mogę spać, błagam proszę mi pomóc zrobić status...
Przy 50 takiej wiadomości poddałam się sama przed sobą..poddałam się wizji odpoczynku...wytrzymałam chwilę, aby nie odpisywać na wiadomości...publicznie poinformowałam, że jutro odpiszę...nie udało się...zwyczajnie..po ludzku...nie chciałam siedzieć i się leniwić, kiedy ktoś błaga o pomoc...Odpisuję Wam dalej na wiadomości...dobrze, że dzieci na wyjedździe, więc nie mam wyrzutów sumienia, że znowu matka poza zasięgiem...
Mój syn mnie zapytał: Mamo jaki sens życia..jak masz cel..bo pani pytała..Odpowiadam: moim celem jest to, abym dbała o siebie, abym mogła zadabć o innych...
Zatem zamykam kompa...idę odpoczywać...
Dzięki za wszystkie cudowne wiadomości <3 
Oczywiście bez linka do informacji się nie obejdzie
 a więc wrzucam nowiny i rzetelne źrodło informacji z oficajlnej strony Bradford Metropolitan District Council
www.bradford.gov.uk/your-community/brexit-and-the-settlement-scheme/brexit-and-the-settlement-scheme/
Pamiętajcie o #1000BradfordChallengePL do końca grudnia 2019!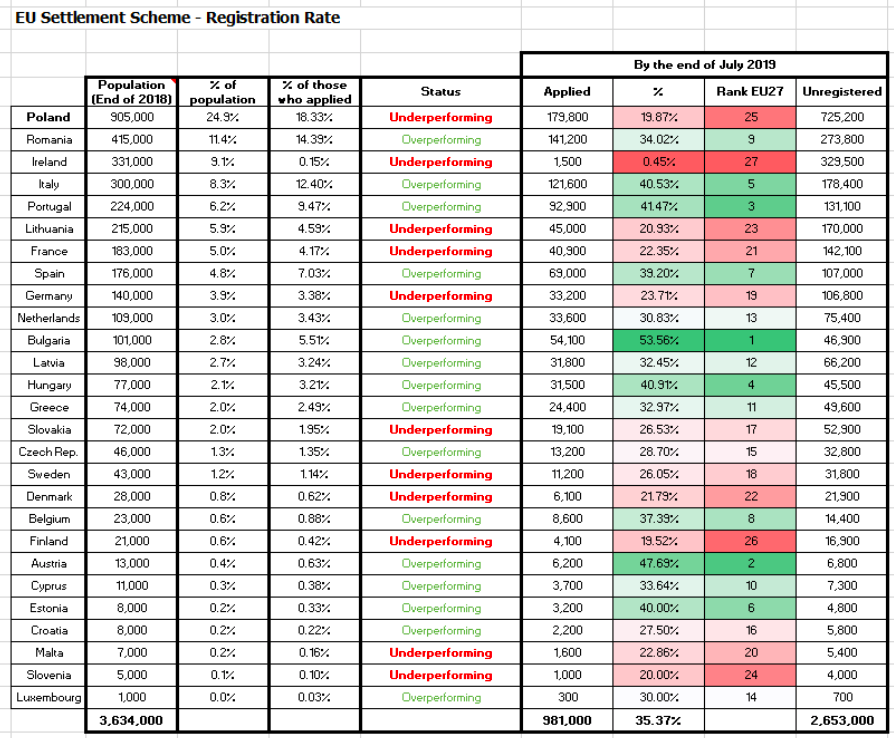 #1000BradfordChallengePL
Szanowni Państwo! Drodzy Przyjaciele!
Jest weekend... czas odpoczynku, czasu z rodziną...spokoju...Jednak nie dla wszystkich...117 wiadomości z prośbą o pomoc w aplikowaniu o Settled Status w ciągu tygodnia...wiadomość za wiadomością...mail za mailem, piątek środek nocy, sobota wieczór, niedziela poranek, niedziala popołudnie! Na wszystkie wiadomości odpowiemy jutro! Obiecuję!
Cieszymy się, że list Ambasadora RP, prof. Arkady Rzegocki skłonił Państwa do refleksji i podjęcia działań w zabezpieczeniu swojego statusu. Wraz z Caroline Dybala, Dominika Marcinkowska, pragniemy zorganizować kolejne bezpłatne spotkanie informacyjne w języku polskim prowadzone przez akredytowanych Immigration Advisers zarejestrowanych w OISC Office of the Immigration Services Commissioner - GOV.UK.
W związku z tym, że Państwa pytania indywidualne się powielają, chcielibyśmy powtórzyć event z czerwca. Szukamy grup, miejsc, do których możemy przyjść i odpowiedzieć na Państwa pytania.
W załączniku list Pana Ambasadora do Polonii oraz kilka naszych zdjęć z ostatniego eventu zorganizowanego w partnerstwie z Dorota Janór Plata The Good Shepherd Centre z Keighley, Bradford Metropolitan District Council.
Jako Polonia w Bradford jesteśmy na szarym końcu, także w UK w aplikowaniu o Settled Status niewiadomo z jakiej przyczyny. Aby wyjść Państwu naprzeciw i upewnić się, że nikt nie zostanie z nieudokumentowanym statusem po Brexit, wrzucamy nowy BRADFORD CHALLENGE #1000BradfordChallengePL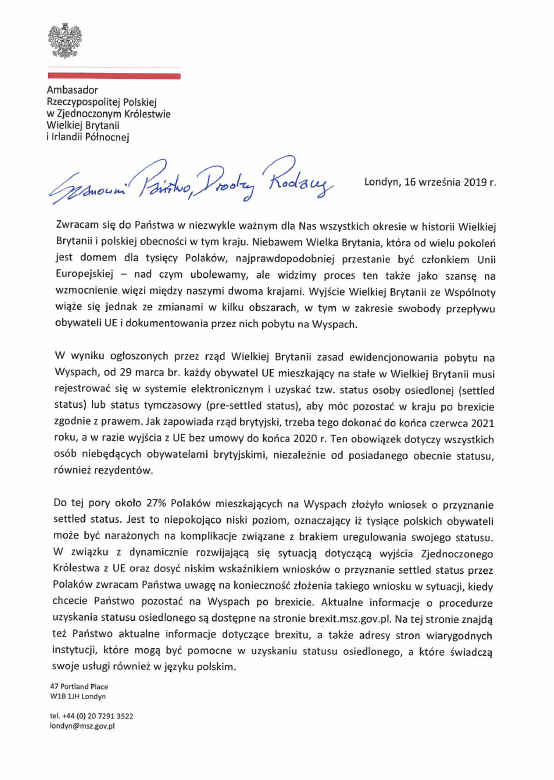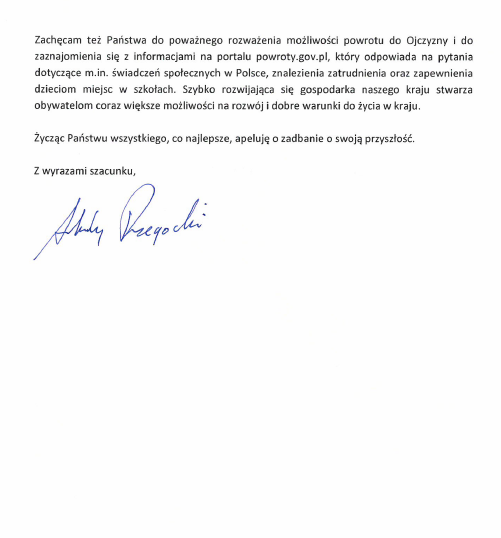 Prosimy o info każdą osobę, która od teraz (22.09.2019) 13:40 UK czasu zaaplikowała o Settled Status. W razie pytań prosimy o kontakt na maila [email protected]
www.facebook.com/events/552674521939629/
Pozdrawiamy! Aleksandra Marcinkowska & Karolina Dybała 
GDZIE MOŻNA UZYSKAĆ INFO NA TEMAT SETTLED STATUS:
My polecamy skorzystać z bezpłatnych usług Doroty Platy.
The Good Shepherd Centre
Contact details
Address: West Lane, Keighley, BD22 6ES
Email address: [email protected], [email protected]
Telephone: 01535 608639
Mobile number: 07756 409246 (only during opening hours)
Website: www.thegoodshepherdcentre.org.uk
Days/hours available for EU Settlement Scheme advice
Monday, 8am to 4pm
Tuesday, 8am to 1pm
Wednesday, 8am to 1pm and 4pm to 8pm
Friday, 12 noon to 3pm
Other times upon request and availability
Languages spoken at centre
POLISH
English
Czech
Slovakian
Latvian
Russian
Burundi
Philippines
French
Ukrainian
Access support
There are a number of hubs across Bradford District where EU-citizens and their families can go to access advice and support on Brexit and the Settlement Scheme.
Girlington Advice and Community Centre
Contact details
Address: Girlington Road, Bradford BD8 9NN
Email address: [email protected]
Telephone: 01274 542454
Website: www.girlingtoncentre.co.uk
Days/hours available for EU Settlement Scheme advice
Drop in session on Friday, telephone advice six hours per week over three days and appointments throughout the week.
Slovak and Czech worker will be working over five days, four hours per day, Wednesday five hours.
Languages spoken at centre
Slovak
Czech
St Edmund's Nursery School and Children's Centre
Contact details
Address: Washington Street, Girlington, Bradford BD8 9QW
Email address: [email protected]
Telephone: 01274 543282
Website: www.stedmundsbradford.org.uk
Days/hours available for EU Settlement Scheme advice
Thursdays, 8.30am to 5pm
Fridays, 8.30am to 4.15pm
Languages spoken at centre
English
Czech
Roma
Slovakian
Polish
Latvian
Russian
Dutch
Bosnian
Serbian
Croatian
Punjabi
Urdu
Pushto
Gujarati
Cantonese
Grange Interlink Community Centre with CAB
Contact details
Address: Summerville Road, Bradford BD7 1PX
Email address: [email protected]
Telephone: 01274 726612
Days/hours available for EU Settlement Scheme advice
Monday 9.30am and Friday 9.15am to 12.15pm (please check with the centre for any changes)
Languages spoken at centre
English
Slovakian
Urdu
Punjabi
Pushto
Gujarati
St Vincent's Church with CHAS
Contact details
Address: Saint Street, Great Horton, Bradford BD7 4AB
Email address: [email protected]
Telephone: 07704 854978
Website: chasbradford.btck.co.uk
West Bowling Centre
Contact details
Address: Clipstone Street, Bradford BD5 8EA
Email address: [email protected], [email protected]
Telephone: 01274 733770
Days/hours available for EU Settlement Scheme advice
Tuesdays, 9am to 12 noon and 1pm to 4pm
Thursdays, 9am to 12 noon
Languages spoken at centre
English
Urdu
Punjabi
Family Action
Contact details
Address: Canterbury Advice Centre, 1–3 Ringwood Road, Canterbury Estate, Bradford BD5 9LB
Email address: [email protected], [email protected]
Telephone: 01274 577571
Days/hours available for EU Settlement Scheme advice
Drop in: Monday to Thursday, 9am to 1pm and Friday, 9.30am to 12.30pm
Clients can call Monday to Friday, 9am to 1pm to make an appointment
Languages spoken at centre
English
Urdu
Punjabi
Czech, Slovak and Polish (These are available until December 2019 as the member of staff is on placement)
Karmand Community Centre
Contact details
Address: Barkerend Road, Bradford, BD3 9EP
Email address: [email protected]
Telephone: 01274 669593
Website: www.karmand.org.uk
Days/hours available for EU Settlement Scheme advice
Monday and Wednesday, 9am to 3.15pm
Friday, 1pm to 3.30pm
Languages spoken at centre
Slovak
Czech
Polish
Roma
Russian
Urdu
Bangla
Gujarati
Punjabi
Swahil
Hindi
0

/